ENGINEERING
SOLUTIONS & PEOPLE

Western Australia's Integra Engineering International is a new name in the resources sector in the Asia Pacific region.

Integra now offers a broad range of quality Engineering services to the Mining, Petroleum, Power Generation/Transmission and Water Treatment Industries. These include a full range of engineering support capabilities, including project management, engineering, technical recruitment, procurement and contracting services in all disciplines.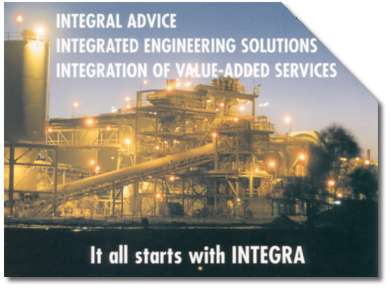 An experienced and highly professional team of experts are available to tailor technical solutions to the needs of individual clients.

Whether applying its own skills base, or collaborating with major engineering and construction contractors, Integra's primary goal remains the same. That goal is to provide you, the client, with an optimum solution.

Interga will add value at all levels of its involvement with projects. This is achieved predominantly through the expertise and experience of Integra people assigned to a project. The company provides structured teams or individuals as required, and this flexibility extends to Integra's approach to meeting client's objectives.

Testimony to the success of this approach is Integra's impressive client base and growing volume of repeat business.

Complimenting the group's engineering focus is a full range of IT advice and solutions.
Contact
Doug Peris
Business Development Manager
Suite 3, 110 Mounts Bay Road
West Perth WA 6005
phone +618 9486 8880
fax: +618 9486 9990
email:
dperis@icg.net.au